Discussion Starter
•
#1
•
I have a custom LRB m14, mostly TRW/GI, assembled by Ted Brown. Unfortunately, I very rarely get out to shoot it.
Anyway, first few times out to the desert, had a bunch of issues shooting GI surplus, which I realized must be the knock-off 10 round mags. So (per a previous thread a couple months ago) I bought some Springfield mags, took them and the rifle to an indoor range and it/they fed the frangible 308 I had to use indoors with no problems.
So very happily, I take my GI surplus and rifle up to a real range this last week, only to find out that my GI surplus is steel core and therefore not allowed due to the chance of sparking a fire. So the range sold me a couple boxes of Magtech 150gr ammo to use. Threw in 10, shot them off no problem. Loaded another mag, got to about the 3rd round when I realized it didn't eject after firing. I safely removed the magazine and with a flathead screwdriver I was able to pry out the jammed/expanded case, with a lot of force. I was afraid I was going to scratch up the receiver pretty bad if the screwdriver slipped.
Then I noticed that the extractor had a thin metal strip torn off it's leading edge, hanging on by a thread. So I twisted it off (never a good site!), loaded up some older Australian surplus from a friend, and shot a single round. Yup this one did not expand/jam into the chamber, but it did not extract either so I figured that although small, the piece of metal that came off the extractor is enough to keep it from grabbing the cases. I was able to fairly easily remove that spent case with the screwdriver though.
Ok, suggestions?
Do I order a new extractor and try and install it myself?
Do I send off the entire rifle to Ted or a local smith to have them do it?
Is there some other issue such as chamber tolerances/headspacing that could have caused it?
Or is the cheap Magtech ammo to blame, with a bad expanding case? (looked like this stuff:
http://www.gunbroker.com/Auction/ViewIt ... =131031764
)
Here's a couple pics: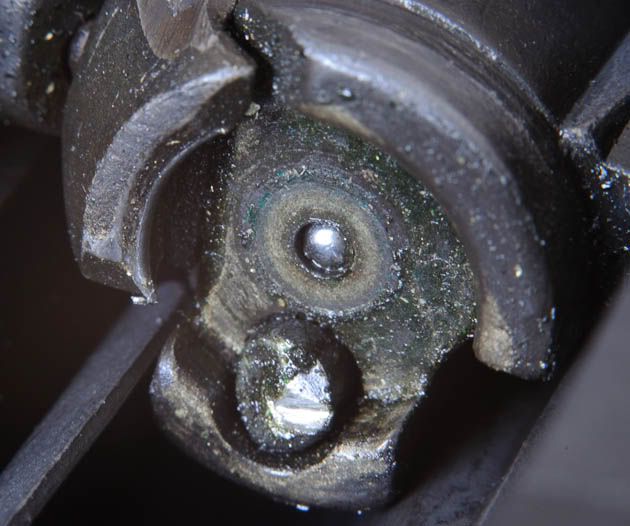 Thanks as always!